Use Wordle in the Classroom For Learning
Use Wordle in the classroom? Or maybe introducing it to homeschoolers or even distant learning students? While we all learn in different ways, if your students get excited in the opportunities this word game presents, it might pique their interest in words and reading. Plus, it's a big deal in pop culture, so there is plenty of interest in playing this game every day.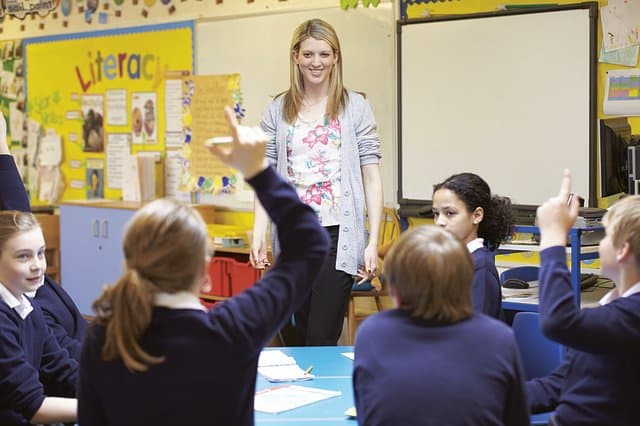 Teachers Use Word Games Daily
Depending on the grade level, you might find this word game too advanced for students below 3rd grade. However, it will be a challenge to elementary age and middle school students and it's encouraged that a group participation be considered when using Wordle in the Classroom.
Related: This Man made a Wordle Cake (and he's going to eat it too)
If you are wondering exactly how you can incorporate a daily game or the concept of the game, read on. Your students will quickly pick up the idea of the game and you might even get a few suggestions as they get engrossed in the language differences.
7 Tips on How to Use Wordle in the Classroom
Offer to play Wordle with the entire class. As we all know, working together on a puzzle is fun. Understanding the process of the game along with the rules, colors of the boxes and the reasons one might pick a letter is a great way to introduce Wordle and involve engagement of all the students
Break down the analytics of the letters and apply it to the word game. Be it vowels or consonants, the reason there are certain words players start with is based solely on math and statistics of the number of times a letter of the alphabet is used. As you might imagine some letters are used far more than others.
Reflect and showcase letter combinations on the day-to-day aspect of the puzzles. This puzzle is a unique way to teach how certain words are expected to have vowel combinations (and some consonant combinations too.)
Sound out the words in every step. Of course it won't be the exact word until you get to the end, but the idea to hear the sounds of the letters triggers a new perception of what the final answer could be. And it's a great tool to reinforce when students learn new pronunciations.
Encourage students to make their own Wordle puzzles. There are a number of places online students could easily make their own word puzzles to share with other classmates to play. Creating and developing words is a great way to actively involved student participation.
Check out other websites that are similar to Wordle for an opportunity to engage word play. If you are looking for examples, consider Worlde a geography game that's similar in concept to the popular pop culture word game.
Offer up the clues for the daily game to help students try to complete the actual word puzzle. Sites like Inverse offer daily clues that help solve the game without giving the answers entirely.
BONUS — A Few More Ideas!
Use the Wordle template to share words your class is currently familiar with. If you are studying social science, history or even geography, you could find five letter words and put together personal wordles (for your classroom) that helps learn the material while enjoying an introduction of the game.
While not everyone might be able to complete the puzzle, use this game as a reminder that it's about putting in the effort to complete it. Even the best Wordle players don't solve the puzzle day after a day.
In Conclusion
Your students might already be very aware of Wordle and want to learn more about the game. Other students might already be trying to complete the puzzle. Offering a supportive way to enjoy the word game while learning new words and letter combinations is an amazing teaching tool. Our hope is the 9 Tips on How to Use Wordle in the Classroom helps you incorporate this idea into some lessons in your classroom.