Wordle Play With a Shock Collar
Wordle play is meant to be a relaxing, personal word game journey. Don't tell that to the Picky Boys! Their latest video is half moronic and half genius. It's a way to play that can't be recommended but must be commended. In fact, we guarantee once you start watching, you can't look away.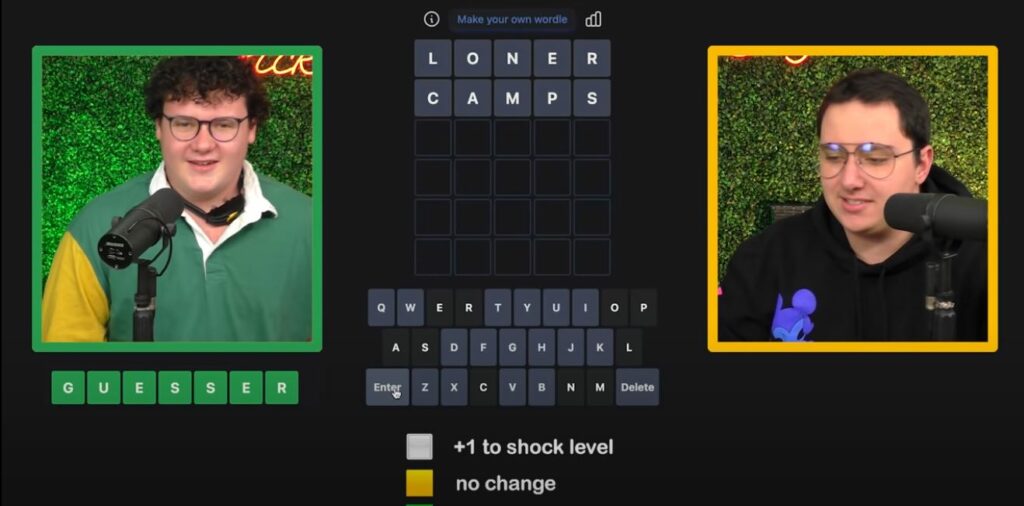 Wordle Play with Shock Collars? OMG!
In the latest Wordle crazy, there is a new way to play the game and you shouldn't make too many mistakes or you will get zapped. The shock collar video has Antonio and Danny playing Wordle with a shock collar around their necks.
Fully active. Ready to Zap You.
Related: Wordle Fan Makes a Wordle Board Cake that's delightful puzzle
Yes, that's a Shock Collar
They put together a little chart on figuring out just how big the shock will be based on the word used and the results offered after the pick and they allow fans to play along. Or wince along.
Completing the puzzle one line at a time, the suspense builds. The back and forth on the word gets a little tedious as we all know the wrong letter means getting zapped. The question is how badly will they get shocked?
You might be surprised that the idea of getting shocked makes you think a little more about the possible letters you will use for the actual puzzle. If there is a consequence (and there is with this video) you can see how that engages the player further and how it distracts you from the focus of play. Which is why it's safe to say this exercise in insanity has a zapping conclusion.
Viewing this Wordle Play Video is Painful
Watching the video you feel your backside slightly rise off the chair as you know the zap is coming after every guess. The anxiety ceases up your body, You the viewer, will be screaming at the screen to stop. You just know Antonio or Danny will get shocked. It's bound to happen. The wince you offer up watching the video is a reflex of human nature. It's just got to hurt. And watching this video is painful too (but you can't look away.)
The moral of this video is don't be over thinking the fun of playing Wordle. Have a good time. Enjoy it over coffee and keep the collars away. Over the top play is fine, but please no more electric stuff.
Be Advised: For the love of God, please don't try this at home. Or at the next Wordle speed competition. It's dangerous, insane and stupid. Thanks to the lawyers for making us say all that.
To the Picky Boys: we love this ridiculously immature idea. It reminds us all this is a game for everyone. Even those who dare to be zapped a time or two.